Palas WIS / SOP / Data entry
Display System for Textile/Garment Manufacturing Plants
The Palas Factory Information System (PFIS) displays Work Instruction Sheets, Standard Operating Procedures, and Data Entry plans at the touch of a finger. WIS, SOP and DE's can be updated across the plant from a central server, or individually if needed.
Model changes are easily implemented, as workers can choose the appropriate WIS by following the easy-to-use instructions. Just touch the model, followed by the part number.

This packaged software allows use of your existing WIS/SOP/DE in PDF format (Others like XL, Word, jpg., can be converted) No need for expensive customization. Be up and running in minutes.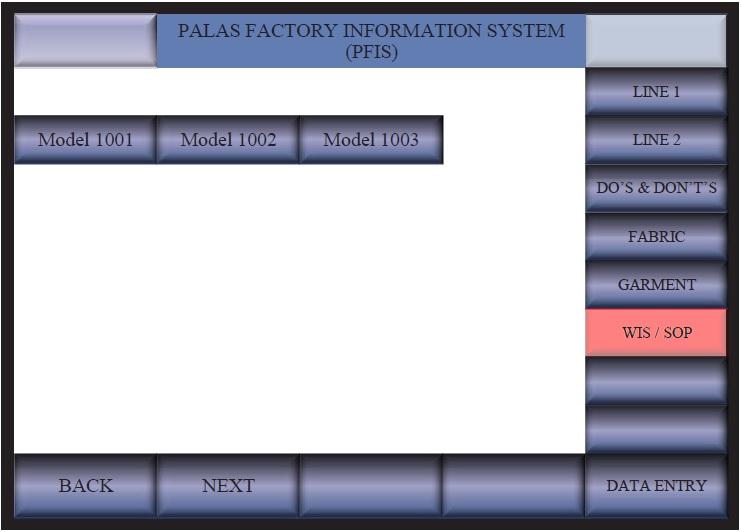 To use, simply select WIS and touch the Line number and model. If number of models are more, additional menus will automatically appear. Over 3000 WIS sheets can be selected
Model numbers are easily customized by the customer to suit their language and needs
The selected WIS/SOP is displayed.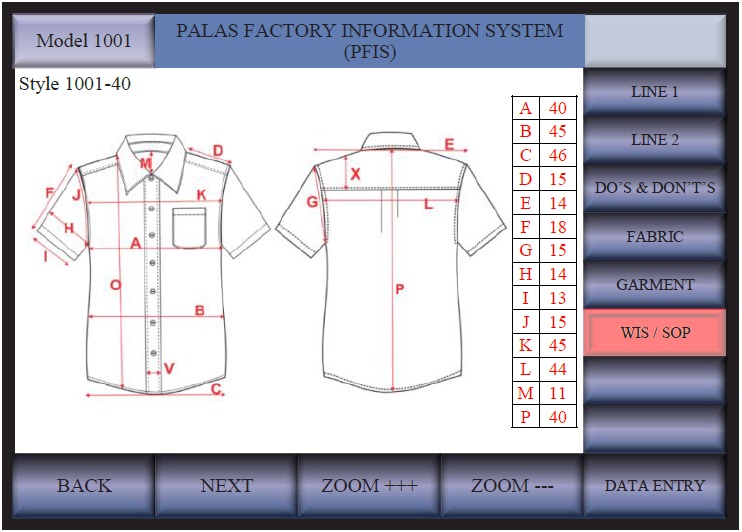 Files, if in XL, Word, PowerPoint, jpg., etc, can be easily converted to PDF.
Touching do's and don't's gives common faults, or plays a video
If a new model is scheduled, just touch the model and part number, and a new WIS appears:
Special messages, safety information can be displayed either by a text message, or a video
Button names, WIS, CP, can be changed and updated by the customer at any time.

Textile / Garment Manufacturing Plants
Product Code: Textile / Garment Manufacturing Plants
Availability: 1
₹10,620.00

Ex Tax: ₹9,000.00