3M™ Projected Capacitive Technology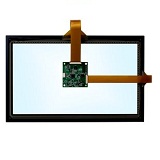 3M Multi-touch Touchscreens, based on 3M Projected Capacitive touch technology and electronics, offer fast, accurate and simultaneous up to 80-finger touch functionality, with palm rejection.
3M Multi-touch Technology is compatible with Windows 10, 8, 7, Linux, android, iOS to support gesture actions like flick, pinch and expand, and image rotation. Developers can use these cues to create complex, multi-finger, multi-user applications.
3M has received Windows Touch Additional Qualification (AQ) for multi-touch interactivity.
Advanced metal mesh technology
Palm rejection
fast 12 millisecond touch response
Over 16,000 touch sensing points for precision
Non-active, chemically strengthened cover glass
anti-glare finish
Anti-friction surface enhances user experience
Glass front surface, high durability, easy to clean
Works with light touch and with gloves
Compatible with Windows 10, Linux, Android, iOS
Sizes from 15" to 65"
20 finger input up to 27"; 40 finger input for 27" to 32"
60 finger input for 37" to 55"; 80 finger input for 65"
Not affected by surface contaminants such as dirt, grease, liquids
Touch Screen Specifications
Touch Inputs - 20 touches 15 to 24"; 40 touches 27" to 32"; 60 touches 37" to 55"; 80 touches 65"
Palm Rejection - Yes
Touch Screen Construction - Non-active cover glass
Total Thickness - 2.4mm
Input Method - Finger, Thin gloves
Touch Refresh rate - < 12ms
Accuracy - >99% of true position
Touch Resolution - 4K x 4K
Light Transmission - >88%
Surface Finish - Anti-glare and anti-stiction
Operating Temperature - -20 to 70 deg C for the touchscreen
Humidity - Upto 90% RH from 0 to 35 deg C, non-condensing
Surface Obstruction - Not affected by surface contaminants like dirt, dust, grease, liquids
Chemicals - Resistant to corrosives, as per ASTM D1308-02 & ASTM F-1598-95
NEMA - IP66 / NEMA 4X sealable
Touch Interface - USB
Cleaning - Wipe with damp cloth moistened with Water or isopropyl alcohol
Communication - USB HID Digitiser
Operating current - 5VDC, <150mA max (USB)
Regulatory - FCC-B, CE, IEC60950