Point of Sale (POS)

Palas POS are Easy to use - Just touch the screen and make a bill !
Small size saves counter space
Amazingly low price
Choice of colors
Can even work from car batteries or a solar panel OSD
Made in India, easily customized
Compatible with most touch screen POS software
High quality components for fast and reliable operation
Card reader made by Sankyo, Japan
Intel CP
High resolution LCD or LED displays
Extended warranty options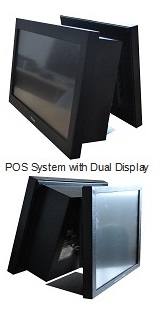 All sizes from 10.1" to 21" in square (4:3) and 17" to 32" in wide (16:9) formats
Display: 25cm (10.1") to 80cm (31.5")
Input: Based on Surface Capacitive Touch Screen (SCT) or Projected Capacitive MultiTouch (PCT)
OS: Win 10 / Linux . Android only with BMxM models
Processor: Intel Celeron. Optional i3 / i5 / i7
RAM: 4 GB or higher
Storage: 120 GB SSD. Optional up to 1 TB
I/O: 2 USB, Ethernet, Audio. Optional up to 6USB / 2 Serial / 1 Parallel
Finish: Black, powder coated. Optional colours.
Dimensions: 270mm (H) x 350mm (W) x 90mm (D) (Without stand, for base option)
Options: Main display—15", 17", 18.5", 19", 21.5", 32"
WiFi, Bluetooth
Customer display: Optional Pole Display or Dual LCD 15" to 32"
Finish: Optional colours / wood finish to match customer decor
Stand: Wall Mount, / Desktop / Boom arm
Card Reader—Mag Swipe / Smart / Hybrid / Contactless / NFC
Bar code reader (built-in)
Water proof front and top surface
Toughened Glass Touch Screen
0 to 60 degree rated industrial terminals
POS Software