Palas Touch Table
Deliver stunning sales presentations or visual pitches with slick, stylish Palas Touchscreen Tables. Enhance business meetings, events and office receptions with 24/7 displays allowing multiple touch points. An easy and entertaining way to engage customers and colleagues.
A fun way to showcase the entire product range in a store
As restaurant tables—not affected by food or liquids
Show, discuss plans of a new building or project. Zoom-in for details
Meeting rooms—discuss yesterdays QC charts
Uses Projected Capacitive touch technology and electronics, offers fast, accurate and simultaneous 80-finger touch on some larger models.
Sizes available - from 43cm (17") and 165cm (65")
Unaffected by liquids, dust, grease, moisture, paan stains, etc.
See video
Up to 80 simultaneous touches for 65"
Stunning visuals with the full HD 1920x1080 resolution display or the Optional 4K or 3840x2160 resolution display
Powerful performance - next generation Intel processors; Up to 32 GB RAM
Up to 256 GB SSD or up to 2 TB HDD
Choice of operating systems (Windows 10, Linux, Android)
Designed & manufactured in India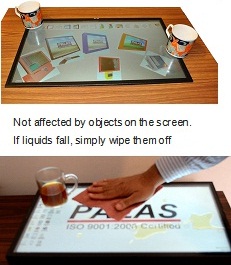 TABLE WITH OBJECT RECOGNITION MODULE
Keep an object (eg a car or musical instrument or similar) with embedded ORM on the Palas Touch Table. The table recognizes the objects name. Rotate the object, and details about it are shown - if an instrument, then hear a maestro playing, or try playing a tune yourself
ATTRACT CHILDREN TO CULTURE WITH INTERACTIVE VIDEO DISPLAYS
A wealth of videos are already available on India's heritage, temples, buildings, dance, music and so much more. Presenting this material on low height Touch tables designed for access by small children makes education entertaining Unlike tablets, the large size of these tables makes it attractive, and fun as many children can view and play together Plus, also unlike tablets, these are robust enough to withstand use by high-energy children!