Digital Signage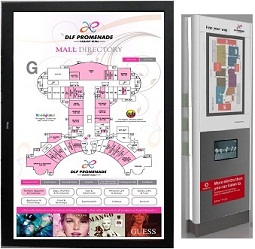 Mall Directory & Building Maps
Make your building directory a revenue earner using interactive advertising modules.Ideal for
Mall Directories
"brick & mortar" stores to promote their online stores
Building directories
Up to 65" diagonal
Targeted advertising - Advertisement played depends on product or store searched for by customer
Easily updated over LAN, or through the internet
Digital Signage In Showrooms
Engage customers with a uniform corporate presentation across all outlets
Instantly update all your showrooms with latest product updates
Selective updates possible eg by States or Cities
Remote management from a central server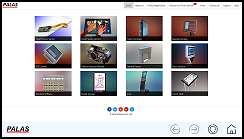 Palas Web Browser
Uses the Palas interactive browser to get customers to browse
an existing website. Quick start-up and low cost, as special
software does not need to be developed, if the existing
site is "touch-friendly".
For public access interactive kiosks, it is important that that users access only specified web sites, and the Palas browser is designed to restrict access to any other site. Though this runs on Windows 10, the browser does not allow access to the desktop by normal users to prevent unauthorised changes being made.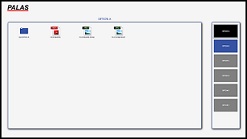 Palas Content Viewer
PCVS is an application that displays PDFs, images, videos, etc. in an easy-to-use menu-driven interface, at the touch of a finger.
Any computer hardware running Windows 10, including tablets, can be used. PCVS runs best on widescreen (16:9) touch displays. However PCVS can be used with a mouse as well.
Click here to download trial version