3M™ Multi-Touch System PCT2000PX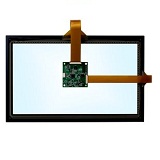 3M Multi-touch Technology, based on 3M Projected Capacitive touch technology and electronics, offers fast, accurate and simultaneous 20-finger touch functionality.
3M Multi-touch Technology is compatible with Windows 10, 8, 7, Vista and Linux to support gesture actions like flick, pinch and expand, and image rotation. Developers can use these cues to create complex, multi-finger, multi-user applications.
3M has received Windows Touch Additional Qualification (AQ) for multi-touch interactivity.
Available in sizes from 38cm (15") to 109cm (55")