PMUM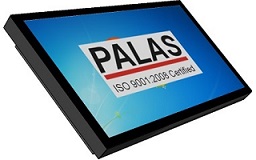 PALAS Multi-Touch Monitors (PM series)
Palas Multi Touch monitors, based on 3M Projected Capacitive touch technology and electronics, offer fast, accurate and op to 40 finger simultaneous touch. Compatible with Windows 10, 8, 7, Linux to support gesture actions like flick, pinch and expand, and image rotation.
Unique metal frame monitors for use in harsh environments. Rugged design. Easy mounting through VESA mounts. Smooth, easy-glide surface coating. Anti-glare / anti-reflective is standard on all PMUM displays.
Product Highlights
40 finger multitouch input for 27" and bigger sizes; 20 finger input up to 27"
Ultra fast <20 millisecond touch response
Over 3300 touch sensing points for optimal precision
Glass front surface for high durability
Works with light touch and with gloves
Not affected by surface contaminants such as dirt, grease, liquids
Enables the next-generation of interactive software applications well beyond two touch expectations
Robust hardware platform that can help "future proof" software development
Compatible with Windows 10, 8, 7, Linux
Anti-friction surface enhances the user experience
Palm rejection
Rugged: Metal Panel Body is designed for hot, harsh, dusty environments. Extended warranty packs available
Easy mounting through VESA mount or side mounting points
Can be used inside a kiosk, fixed to a wall or pole, or panel mounted
Dimensions do not change over years, making it ideal for OEMs Several colour options and finishes
Manufactured by Palas in India
Available in sizes from 38cm (15") to 139cm (55")